Visa's new crypto consulting services to push for mainstream adoption of cryptocurrencies.
Payments giants Visa is launching new consulting and advisory services in a move to help its clients navigate the world of cryptocurrencies.
The firm said on Dec. 8 that its crypto advisory practice, housed within its consulting and analytics division, will offer advice to financial institutions, retailers and other firms on everything from rolling out crypto features and exploring nonfungible tokens, to developing wallets for central bank digital currencies.
According to Visa, part of banks' interest in cryptocurrencies is in remaining competitive. Citing a recent in-house study, Visa said that "40% of crypto owners surveyed report they would be likely or very likely to switch their primary bank to one that offers crypto-related products in the next 12 months."
Per Reuters, American financial services company UMB is a client of Visa's crypto advisory services.
"We came to Visa to learn more about crypto and stablecoins and the use cases that are most relevant for our retail and commercial business lines," said Uma Wilson, executive vice president at UMB Bank.
The move marks Visa's latest attempt to push deeper into the cryptocurrency industry, with the firm having filed for numerous blockchain-related patents in the past. Visa's research team is also working on a "Universal Payment Channel" project, which is a blockchain interoperability hub connecting multiple blockchain networks and allowing digital assets to move from various protocols and wallets.
Visa is one of the many payment processors that has entered the cryptocurrency business in recent years. Its rival Mastercard recently rolled-out crypto-linked payment cards throughout the Asia-Pacific region, while online payment giants PayPal launched a new consumer app for crypto, savings and direct deposits earlier this year.
The news comes just a few months after Cuy Sheffield, Visa's head of crypto, declared the asset class had become "cool" at a fintech conference last month. The payments behemoth made waves when it bought a CryptoPunk NFT in August this year, but its move to launch a dedicated crypto consultancy shows its attempts to capture crypto market share in a crowded field extend beyond marketing stunts.
Visa's partnerships with crypto platforms have doubled in the past 18 months, Sheffield told TechCrunch in an interview. Consumers have also spent about $3.5 million dollars using Visa's crypto-linked card programs, Sheffield said, up from $1 million in July.
It also announced the results of a new global survey it conducted on consumer attitudes about crypto, which found that 40% of its 6,000+ respondents would be likely to switch primary banks to one that offers crypto products.
Visa has seen "an incredible amount of inbound calls from hundreds of clients and partners and traditional financial institutions" who are looking to integrate crypto into their offerings, Sheffield said. Visa's consulting arm has around 700 employees, though the company did not share how many would be affiliated with the crypto practice.
"We see Visa well-positioned as a global neutral brand, with deep expertise in crypto, that can help to abstract away some of the complexity of these new technologies and help banks bring it into their core products," Sheffield said.
To that end, Visa invested in blockchain compliance firm TRM Analytics by participating in its $60 million Series B. American Express and Citi also participated in the fundraise. Visa is just one of many card incumbents scrambling to make inroads into crypto, which is threatening their fee-dependent business model by replacing them as the new underlying infrastructure for payments.
As the number of digital currency networks increases — each with unique design characteristics — the likelihood that consumers, businesses, and merchants are transacting on the same network and utilizing the same type of money decreases.
For CBDCs to be successful, they must have two essential ingredients: a great consumer experience and widespread merchant acceptance. It means the ability to make and receive payments, regardless of currency, channel, or form factor. And that's where Visa's UPC concept comes in. The story of UPC begins in 2018. The Visa Research team — a group of scientists and engineers focused on emerging technologies —began developing a framework for interoperability that would work across different blockchain networks and be independent of the underlying blockchain mechanisms.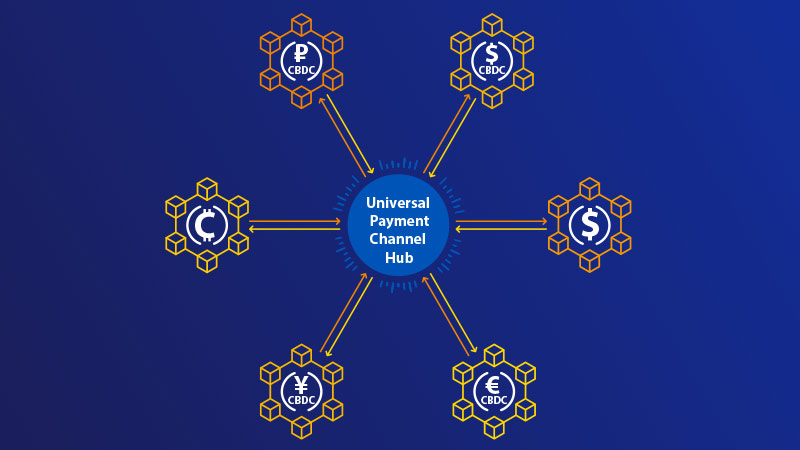 The UPC hub concept that emerged would connect different blockchain networks by establishing dedicated payment channels between them — whether that means connecting CBDC networks between countries or connecting CBDC networks with vetted private stablecoin networks. New, trusted blockchains could easily be added to the network of networks by creating new payment channels within the UPC hub.


More than advance a vision for interoperability, UPC also has implications for transaction speeds in digital currencies. Where today's modern payment networks can handle tens of thousands of transactions per second, some of the largest existing blockchain networks can currently handle only a fraction of those volumes.

UPC's specialized payment channels would be established off the blockchain and leverage smart contracts to communicate back with the various blockchain networks, delivering high transaction throughput securely and reliably and improving speeds overall.
While UPC would exist in the background for most users, it would deliver the kind of cross-chain interoperability that makes CBDC useful and attractive for consumers and businesses globally.
Ultimately, the UPC solution aims to serve as a network of blockchain networks — adding value to multiple forms of money movement, whether they originate on the Visa network, or beyond.